I received this book for free from TLC Book Tours in exchange for an honest review. This does not affect my opinion of the book or the content of my review.
The Woman in the Photo: A Novel
by
Mary Hogan
Published:
2016 by
William Morrow Paperbacks
Genres:
Historical Fiction
,
Fiction (General)
Pages:
432
Format:
ARC
Source:
TLC Book Tours
Buy on Amazon
View on Goodreads
The Woman in the Photo by Mary Hogan is a new historical fiction/contemporary novel that explores the Johnstown Flood.  In the late 1800s, a bunch of rich Pittsburgh industrialists (Carnegie, Frick, etc.) had a private lake in South Fork, PA.  The lake was man-made, held in place by an earthworks dam.  The industrialists did not maintain the dam, and in 1889, after a particularly rainy Memorial Day weekend, the dam burst.  Thousands of people downstream died, and nobody was held accountable.
The story of the Johnstown Flood is one that's close to my heart, as I was born in Johnstown, PA and grew up in one of the small towns nearby.  I've been to the Flood Museum on many occasions, and have gone hiking in the bed of the valley that was once Lake Conemaugh.  Despite the fact that Andrew Carnegie is viewed as one of the heroes of my profession (so many Carnegie libraries), all the philanthropy in the world could not make up for the lives lost through carelessness and irresponsibility, and I was filled with silent rage every time one of my library school professors sang his praises.
When I first heard about The Woman in the Photo, I was excited and nervous, especially as the book jumps between the Johnstown of the past and the Johnstown of today.  I hoped that the author would be able to get Johnstown right–it's a city full of proud and hardworking people, despite the fact that the economy there isn't what it used to be (when the 2008 recession happened, nobody really noticed it, because after the mills and the mines closed 20 years before, there wasn't much of anything left to crash).  It's a city filled with history, with resolve, and with the will to persevere even when times are hard.  I was heartened the moment that I read the book's dedication:  To the resilient people of Johnstown, Pennsylvania.  Past and present.
Now, enough backstory.  On to my review.
Elizabeth Haberlin's father is a physician who treats Pittsburgh's elite.  Her family has a cabin along Lake Conemaugh, where they escape each summer to a world that's entirely carefree.  As we hear Elizabeth describe her pursuit of the handsome Mr. Tottinger, we see her gradually come to realize her position of privilege, and her isolation from the rest of the world.  This becomes especially obvious after a chance encounter with Eugene Eggar, a local mill worker, who warns her about the dam's dangerous potential.
Meanwhile, we're introduced to Lee, a young woman living in California.  She had the grades to go to an Ivy League school, but then the recession hit.  Her family lost everything, and her father and brother left town.  Lee and her mother are now living in the pool house of the rich lady for whom Lee's mom works as a maid.  Lee is also adopted, which is where her story intersects with Elizabeth's–although it was a closed adoption, Lee sees a photo in her file of a young woman standing next to Clara Barton standing in a pile of rubble.  Lee begins researching the photo trying to find clues about her birth family's identity.
As I mentioned earlier, I had some initial concerns about whether The Woman in the Photo would really get the story right.  That was especially true as I started reading about Elizabeth, and found it an interesting choice to use a protagonist who was an insider at the Club.  However, Mary Hogan managed to strike a good balance in creating a character whose eyes are opened as the story progresses, and who eventually has to make hard choices about what her own values are.
While Elizabeth and Lee are two very different people from two very different worlds, they have many similarities.  Each of them struggles with issues of social class–Lee as she begins to fall for a Beverly Hills boy, and Elizabeth as she begins to leave her sheltered world to confront the much harsher realities of life.  The two women are both independent, free-thinking, and resilient, and it's a pleasure to see each of them make their way in the world.
The one major weakness in The Woman in the Photo had to do with shifting protagonists and points of view.  Elizabeth and Lee were the main point-of-view characters, and were excellent.  However, two other characters had point-of-view moments–Lee's mom and Clara Barton.  Lee's mom's moments were usually embedded within Lee's own chapters, and seemed unnecessary.  And Clara Barton was a tertiary point-of-view character who didn't show up until midway through the book, and whose character could have used some expansion.
The Woman in the Photo was a solid read, and I will recommend it to friends and family without hesitation.  It joins a handful of other books in sharing the story of the flood, only some of which I've read.  These include:
In Sunlight, In a Beautiful Garden by Kathleen Cambor
The Johnstown Flood by David McCullough
Julie by Catherine Marshall
Three Rivers Rising: A Novel of the Johnstown Flood by Jame Richards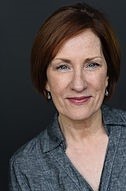 About Mary Hogan
Mary Hogan is the NAPPA Award-winning author of seven young-adult books. Two Sisters is her first novel for adults. She lives in New York City with her husband, Bob, and their dog, Lucy.
Find out more about Mary at her website, and connect with her on Twitter.
Related Posts