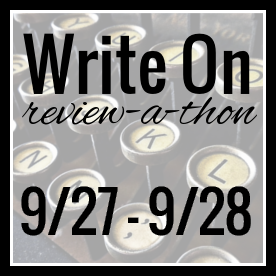 Each month Brianna from The Book Vixen hosts the Write On Review-a-Thon, an event dedicated to catching up on writing reviews.  Since I've been super busy the past couple weeks and have fallen behind on writing, I thought this would be the perfect opportunity to catch up.
Here are the reviews I need to write:
The Killing Moon by N.K. Jemisin
Dreamer's Pool by Juliette Marillier
Spellbound by Sylvia Day (DNF Review)
The Haunting of Hill House by Shirley Jackson
Hopefully I'll get them all finished and scheduled!  I'll be updating this post as the weekend progresses so I'm not spamming people with updates.  I'll also be tweeting my progress (mostly on Sunday) at #reviewathon.
Edit 9/28/14, 11:52 pm – Just finished my last review for the night.  Mission accomplished.  I hope everyone enjoyed their review-a-thon!
Related Posts